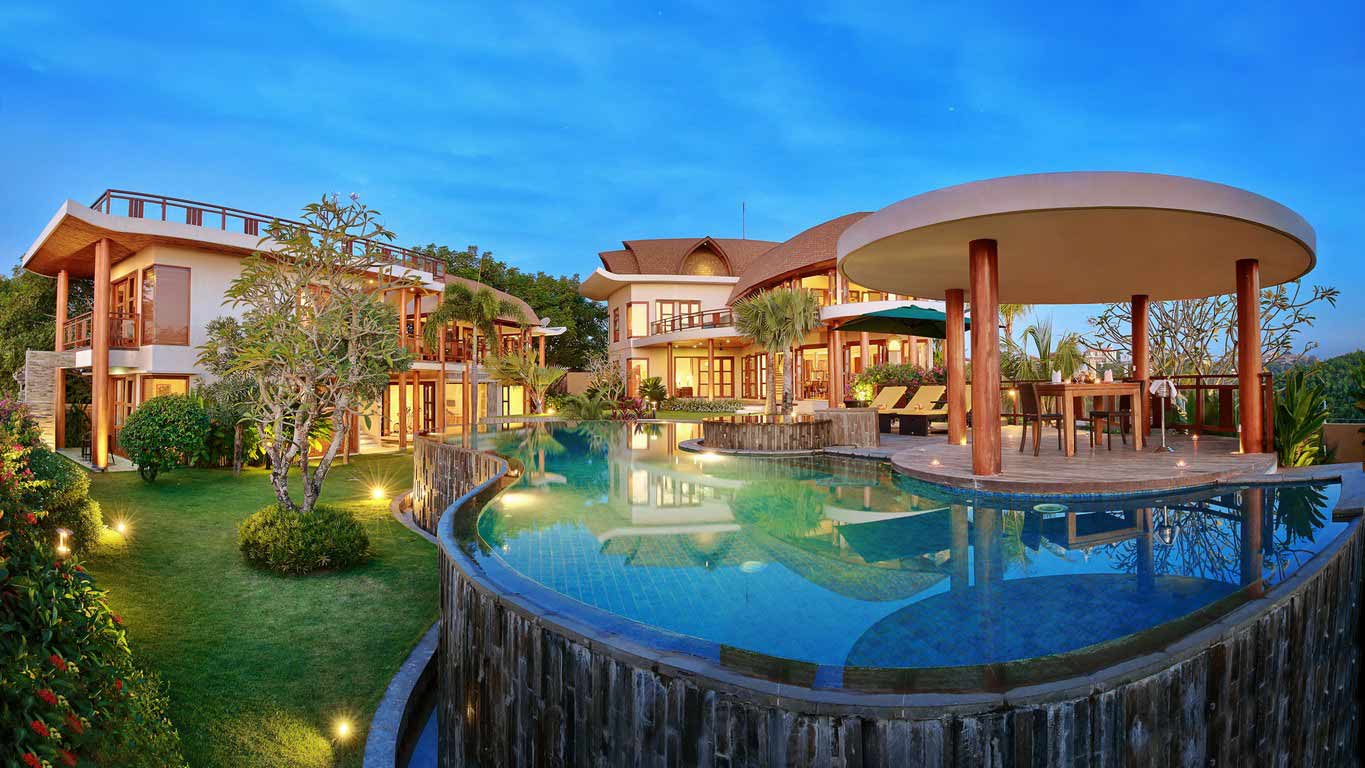 casa-bonita-villa-5-bedroom-luxury-villa-wedding-jimbaran
casa-bonita-villa-5-bedroom-luxury-villa-wedding-jimbaran-2
casa-bonita-villa-5-bedroom-luxury-villa-wedding-jimbaran-3
casa-bonita-villa-5-bedroom-luxury-villa-wedding-jimbaran-4
casa-bonita-villa-5-bedroom-luxury-villa-wedding-jimbaran-5
casa-bonita-villa-5-bedroom-luxury-villa-wedding-jimbaran-6
Welcome To Casa Bonita Villa Bali
Introducing Casa Bonita Villa by Premier Hospitality Asia, a luxury private hideaway for family or group holidays, wonderfully located on the top hill of the Jimbaran area, giving a panoramic view of Bali's south land and magnificent close view of Garuda Wisnu Kencana.
This 5 bedrooms private villa has 2 buildings with modern architecture combined with Balinese artistic and luxury decoration to create Casa Bonita beyond expectation. A lush lavish tropical garden will warmly welcome every guest looking for serenity and a peaceful holiday. Yet, it is also an ideal choice to cater any private event from dinner to wedding celebration.
Suitable as a wedding villa and party villa in Bali, Casa Bonita Villa will give you unforgettable moments.
Virgin P Purbodiningrat
Goooorgeous villa! Amazing view, unique design, high quality, friendly service. Highly recommended for family and friends holiday, or for parties such as wedding.
VIRGO RIAND
Fantastic place... beautiful buildings.. awesome pool... amazzing views.. very friendly staff.. bedrooms with gorgeous views.. very close to GARUDA WISJNU KENTJANA Museum.. view to Bali Airport and Kuta Beach.. warm swimming pool and large living room
Marlin Sentosa
Nice Villa 👍👍👍 very quiet, beautiful and cool with city views. Greeted by super friendly staff and full of smiles, I'm happy to help with anything for the Sentosa family. Oh yeah, it's welcomed with young coconut ice taken directly from the garden.. awesome.. see u next time 🙏